Whether you're looking to book a holiday, replace your fridge freezer or buy a new coat, you're likely to read at least one review before making your purchase. With nine out of ten consumers now checking out reviews before buying a product, reviews are a popular form of social proof and have become as important as a personal recommendation.
So, what are consumers' experiences with online reviews? Do they trust everything they read is genuine or are they concerned about fake reviews? Pasabi recently conducted a consumer survey into US shoppers' experiences of online reviews, who they think is responsible for their authenticity and what platforms or businesses should do if they find fake reviews. The results make for interesting reading…
Of those surveyed, 97% said they regularly read online reviews to help them make purchase decisions, with almost a quarter reading them daily.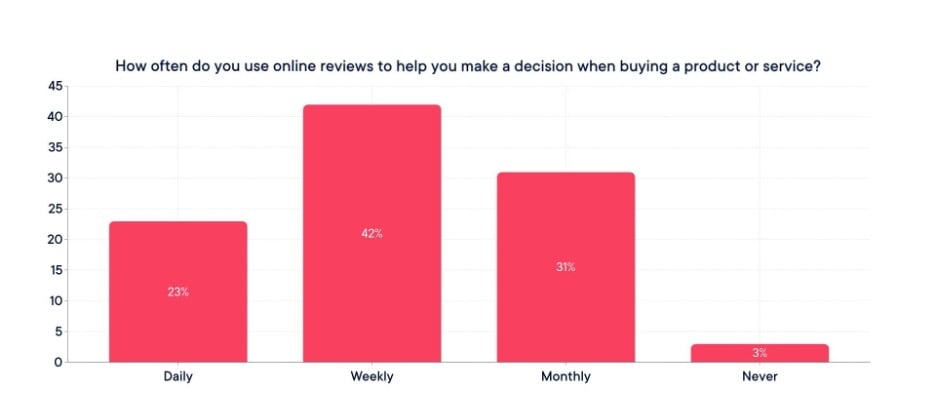 9 out of 10 respondents had concerns about fake reviews, and their concern is growing
Interestingly, even though a huge majority of respondents regularly consult reviews, a whopping 92% were concerned about fake reviews, with more than half being even more concerned about the issue now than they were 5 years ago. Given the accelerated shift to e-commerce in the last couple of years, more consumers are now shopping online which means there are even more reviews available to read which could account for this growing concern.
75% of consumers believe they have encountered fake reviews
When asked if they thought they had ever read a fake review, three in four respondents believed they had, almost one in five wasn't sure and only 6% said they had never come across a fake review.
50% of participants chose not to buy the product or service with a suspected fake review
So, what did consumers do after they read a review they suspected was fake? Well, half of them decided against buying the product or service, 16% told their family and friends about their experience while 5% posted about it on social media. Only 8% actually told the business or platform about the fake review by complaining to customer service, which is potentially a missed opportunity for websites to learn about suspicious behaviour on their platform.
Taking matters into their own hands, 15% went elsewhere to look for reviews from other sources to make an 'educated guess' based on their own research. If consumers suspect your reviews are fake and go elsewhere, this platform leakage potentially harms your reputation, trust and revenue. This, however, ties in with perhaps the most interesting finding from the survey about how consumers believe businesses and platforms should handle fake reviews.
75% of respondents stated that finding and flagging fake reviews is more important than automatic removal
Our survey revealed that rather than having fake reviews automatically removed, three quarters of those surveyed want platforms to be transparent about finding and tagging fake reviews so that the consumer is able to make a more informed, unbiased decision. They want the information available to them so they can make their own judgement about who to trust.
And in terms of addressing the challenge of fake reviews, almost half of all respondents believe that it's the joint responsibility of both the business being reviewed and the platform or app where the fake review appears.
The survey results suggest that reviews platforms, marketplaces and e-commerce businesses have more to do to tackle fake reviews and improve user trust. With regulation around the globe beginning to target fake reviews and increasing consumer choice, trust can become a strong differentiator for the platforms that get this right.
To discover how Pasabi can help you improve your platform trust and safety, you might like to learn about our solutions or book a demo.
Based on a survey of 200 male & female respondents in the US, October 2022
Photo by Jonas Leupe on Unsplash